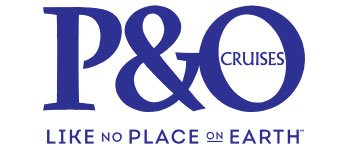 Australia, New Zealand, South Pacific Islands, Papua New Guinea & Asia
Relaxed and Family Friendly
P&O Cruises are revolutionising the cruising experience in Australia. With an array of new and exciting things to do onboard and some new ships, the P&O Brand continues to go from strength to strength. On a P&O Cruises holiday, the experience is up to you. Wake up at noon, wine and dine under the stars or simply lose track of time.
P&O are continually updating their fleet with fresh new interiors and and innovative entertainment and activities to lure new customers. The modern approach is luring a younger generation of cruisers who are eager to try new things.
Whether it's your first time or you're a seasoned cruiser, there are an abundance of P&O Cruises to choose from. Cruises from Sydney and Brisbane include itineraries up the Queensland Coast, Pacific Islands cruises (Fiji, Noumea, Vanuatu). Cruises from Melbourne sail to Tasmania (Hobart, Bernie), Sydney and the Pacific Islands.
P&O Cruises are specialists in offering event and themed cruises. Events such as the Melbourne Cup, Australian Open, Christmas, New Years and Australia Day are all taken into account. Popular themed choices include short Food & Wine Cruises, Comedy and Sampler options to whet your cruising tastebuds.
Sign up to our newsletter for the best deals and specials or search our cruise finder for the latest offerings.
Entertainment & Dining
Entertainment options are in abundance onboard P&O Cruises. Original production shows are choreographed by a leading Australian production company, exclusively for P&O. Be spellbound by amazing circus acrobatics, live music performances, and adults only comedy shows.
P&O Cruises has the Largest Adventure Park at sea called "P&O Edge". For those after more adventurous experiences, you can try the flying fox, a spot of rock climbing, or gather your friends and family for a round of laser tag. For the budding Taylor Swifts, and Robbie Williams' amongst you, why take a Karoke session for a sing off!
P&O have a minimum of eight dining experiences on each ship. Dining onboard is innovative and fresh with locally sourced Australian produce. Australian Celebrity Chef Luke Mangin also has his own restaurant at sea named "Salt Grill by Luke Mangin". From Italian upscale dining, to alfresco burgers on the Top Deck, P&O have all the options covered.
Highlights
Pacific Explorer Remodelling

P&O's newest ship "Pacific Explorer" has been remodelled and contains two waterslides, a waterpark, barefoot bowling, rock climbing, not to mention a huge range of bars, pubs and live music venues.

Gatsby Party

The Gatsby parting has been a huge success with cruisers eager to dress up for a night of dancing and twenties inspired entertainment.

The high end cocktail party includes themed music, entertainment and classic cocktails. Costume pieces are also available onboard should you forget to pack for the evening

.

Award Winning Cruise Liner

P&O was voted "Best Cruise Line for Families" by Cruise Passenger Magazine Readers' Choice Awards in 2016. This is no mean feat with fierce competition amongst the liners trying to woo passengers with the latest and greatest facilities. P&O was also awarded as having the "Best Itineraries" at the Australian Cruise Critic Editors' Picks Awards in 2016. Knowing what passengers want is what P&O Australia does best with a variety of itineraries to suit all tastes and budgets. Whether you're looking for a short cruise from Sydney or a South Pacific Island Hopper, P&O has a long list of satisfied passengers who repeatedly book and endorse their offerings.
News
P&O Cruises has announced a new cruise ship built specifically for the Australian market. The
In a move aimed at rejuvenating it's onboard entertainment, P&O Australia has launched a series
Cruising in Australia is set to attract a younger market of Cruisers thanks to P&O's new White
Awards
Best Itineraries
2016
Australian Cruise Critic Editors' Picks Awards
Best Cruise Line for Families
2016
Cruise Passenger Magazine Readers' Choice Awards
Best Australia / New Zealand Itineraries
2014
Porthole Magazine
Best Family Cruise Line
2014
Out and About with Kids magazine
This Weeks Best P&O Cruise Deals