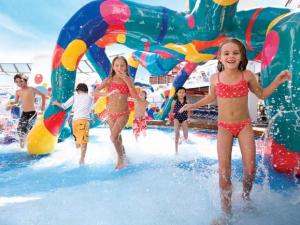 Taking a cruise during the School Holidays is a great way to spend valuable time with the kids, but how do you get a great deal with so much demand over that period? With so many families wanting to spend time together during those limited periods you'll need to do your research and get in early to be one of the lucky few. With cruise prices coming down and lots of bargains at hand let Crazy Cruises find the perfect cruise to suit your needs. We have a large number of school holiday options that are fun for all the family. So where should you head on your School Holiday Cruise?
Queensland
Head North for warmer climates and the further you go up the Queensland coast the warmer it'll be. Cruises from Sydney to Moreton or Fraser Island are a popular choice, as is a Cruise from Brisbane to Cairns, Port Douglas and the Whitsundays.
South Pacific
If you have a larger budget, the South Pacific Islands are a fantastic option. P&O and Carnival Cruises operate a large number of cruises from Sydney, Melbourne and Brisbane taking in Fiji, Noumea, Vanuatu over the school holiday periods.
Short Cruises
If you only have a short period of time, take a Cruise from Melbourne to the NSW Coastal town of Eden, or a Food / Wine or Comedy Cruise out of one of the major ports. 3 and 4 Night departures are a great way to get a taste of the cruising lifestyle.
New Zealand
If you haven't been yet, you're missing out. Cruises from Sydney to Auckland and around New Zealand are popular during the holiday period sailing on Princess Cruises.
To secure your chance at the best possible cruise at the best price you'll need to get in early. Here are some reasons why booking well in advance should be your top priority:
Best Price – demand during the holiday period is high so cruise liners will factor that into their prices. The earlier you book, the more likely you'll get a cheaper cruise deal.
Get the Cabin you want – With high volumes of families comes high demand for cabins with interconnecting cabins. The cruise liners such as P&O Cruises and Carnival have only limited number of interconnecting options and these will fill up fast during this period.
Layby – With our lay by option, booking in advance can help you pay off the cruise over a period of time instead of one lump sum.
With our Cruise Finder search options you're bound to find the perfect holiday cruise that's fun for the whole family.