Cunard Line has announced it will homeport the iconic Queen Elizabeth in Melbourne over the 2019/20 summer. Itineraries for the 101 day Australian base will include six roundtrip cruises from Melbourne, and two from Sydney. Also included will be cruises to Tasmania, South Australia, New Zealand, and Papua New Guinea. The 2020 Australian deployment is double that of the 54 day 2019 season from February to March.
Cunard senior vice president Simon Palethorpe said the extended stay showed the importance of the Australian market and indeed Melbourne as an emerging hub.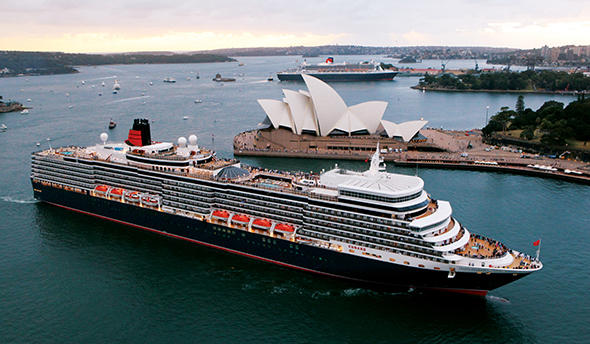 "Over the past few years we've seen unprecedented growth in demand for the Cunard experience in Australia so it made sense for us to invest further in the market and extend the sailing season of Queen Elizabeth even more in 2020," Mr Palethorpe said. "Our new 2019-20 summer season will not only feature more cruises, it will also offer some exciting new itinerary options which we hope will entice even more Australians to experience Cunard's legendary service and style."
A big drawcard for prospective passengers will be the lure of a Queen Elizabeth cruise from Australia over the busy Christmas period, a first for Cunard's current fleet of Queen ships. The festive cruise will travel from Melbourne to New Zealand spending Christmas day cruising the Tasman Sea, Boxing Day in Fiordland National Park and a New Year's Eve fireworks spectacle in Auckland.
Other interesting voyages of note for Queen Elizabeth's stay will be two Papua New Guinea itineraries, and maiden visits to Esperance, Albany, the Whitsunday Islands, and Darwin.
Cunard launched it's Queen Elizabeth vessel in 2010 with an official naming ceremony by Queen Elizabeth II. Ship Highlights include a three deck high Grand Lobby with a sweeping staircase, a two deck high wood paneled library, and a three-deck Royal Court Theatre seating 800 guests and offering private boxes. Other features include the Cunard Royal Health Club and Spa, a European style Casino, and Games Deck featuring paddle tennis, croquet and bowls.
Queen Elizabeth is pitched more towards traditionalists who like to dress more formally for dinner and sail with a sense of style and sophistication.
Full itineraries of the season will be released in March 2018 and available to book on Crazy Cruises shortly after.